Pilot Officer Billy Fiske RAF
Billy Fiske, born Chicago in 1911, was killed in action in 1940 whilst stationed at Tangmere Aerodrome during the Battle of Britain.
He was the first American Serviceman to die in World War II and is buried in the south-east part of the churchyard with the following inscription on his headstone:
Pilot Officer
W. M. L. FISKE III
BORN IN CHICAGO JUNE 4TH 1911
KILLED IN ACTION AUGUST 17TH 1940
He died for England.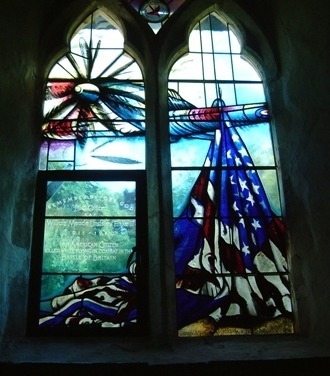 A new stained glass window in memory of Billy Fiske, given by The 601 Squadron Old Comrade's Association, was designed and made by Mel Howse and dedicated in September 2008.
Billy Fiske's Funeral
British Pathé News has recently released footage of Billy Fiske's funeral which shows the final procession down Church Lane to the Priory and views of the churchyard.
Billy Fiske's funeral was conducted with full military honours and took place at Boxgrove Priory on 20 August 1940. As the coffin, covered with the Union Flag and the Stars and Stripes, was borne on a bier to the Priory, members of the Central Band of the RAF played funeral marches.
The video of Billy Fiske's Funeral