Music at Boxgrove Priory
Music forms a major part of the liturgy at Boxgrove Priory. Polyphonic and plainsong settings of anthems, motets and the Mass are used by our renowned choir.
We welcome singers who can sight read reasonably well - in all parts - to come and sing with us. It is not necessary to come to every service and, although the Choir operates with a core of regular members, there are several others who come once or twice a month. There are yet others, who live further away, who come when they can.
If you think you might be interested, we practise every Thursday in the Priory at 7:30pm. Please contact our Director of Music for more information.
Mr Alex Dichmont
alexdichmont@gmail.com
We have made some CDs, the contents of which are set out below. In addition there are some sample tracks from the CDs which you can listen to online.
Gaudete!
The Choir of Boxgrove Priory sings music from Advent to Epiphany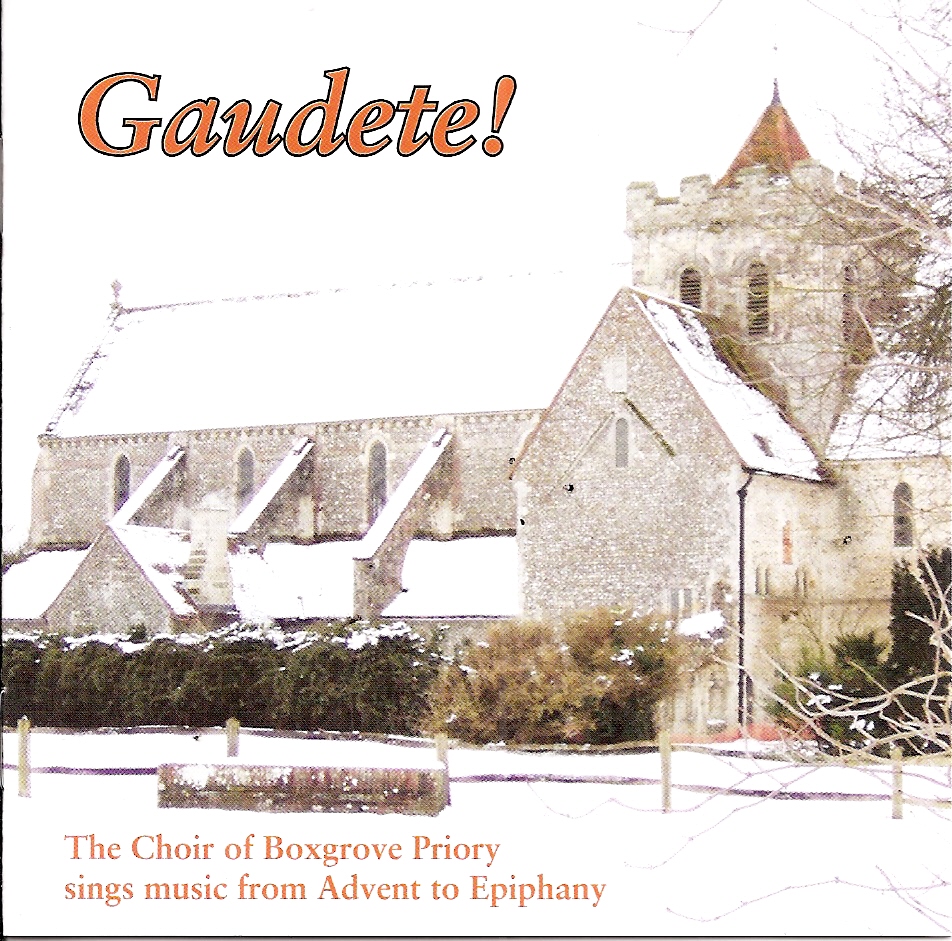 Cover
Gaudete! was recorded on 3 March 2012 in the wonderful new accoustic of the re-ordered Priory. It includes new arrangements of old favourites, some modern carols as well as some stunning and vibrant new carols.
Choir Director: Janet Reeves
Organist: Hugh Potton
Recording Engineer: Alex Green,
Contents:
Wachet Auf! - J.S. Bach [4'26"]
Canite Tuba - Guerrero [2'23"]
Once in Royal David's City [3'24"]
Up good Christen folk and listen - Piæ Cantiones [1'18"]
Adam lay y bounden - Skempton [1'17"]
There is no rose - Britten [2'52"]
O little town of Bethlehem [3'57"]
Tomorrow shall be my dancing day - Gardner [1'45"]
Pastores dicite - Morales [3'58"]
On Christmas night all angels sing [2'05"]
While Shepherd's watched - shape note [2'04"]
Away in a manger - arr Bullard [2'28"]
Star Carol - Rutter [3'15"]
Hymn to the Virgin - Britten [3'11"]
Out of orient crystal skies - Andrew [2'44"]
Jubilate Deo - Britten [2'43"]
Good King Wenceslas [3'18"]
A New Year Carol - Britten [2'14"]
Trio Sonata BWV 525 (Third movement) - J.S. Bach [1'48"]
Gaudete! - Anon [1'45"]
Christmas at Boxgrove
Music and Readings for Christmas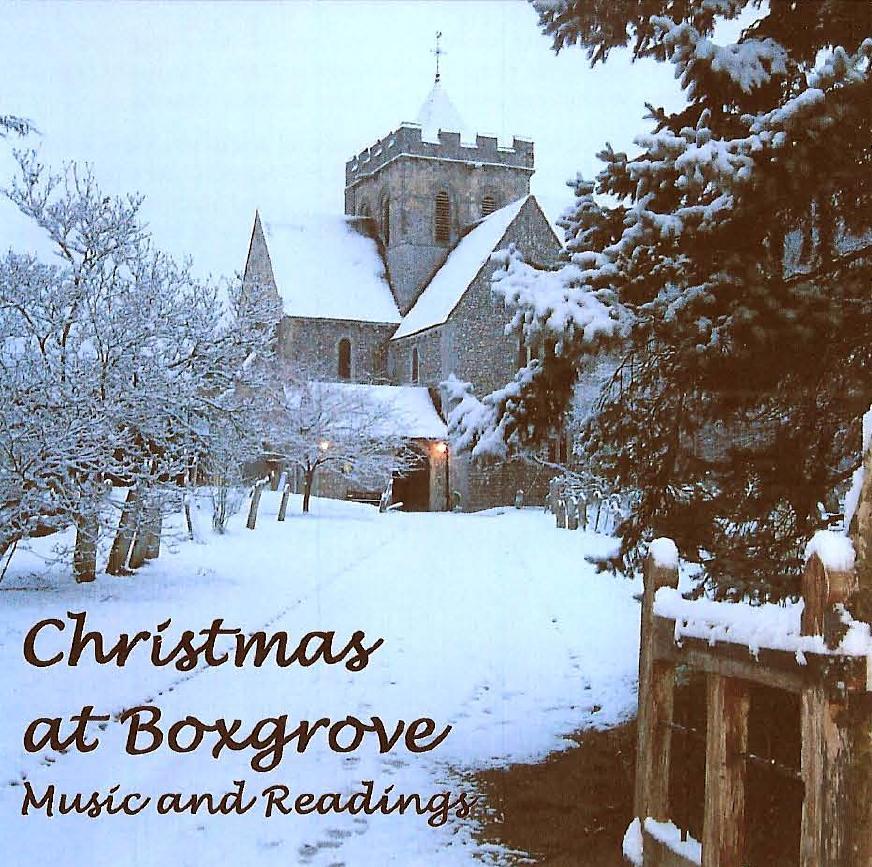 Cover
Released in December 2009, was recorded by the Choir in the Priory on 14 and 15 November and includes seasonal readings and carols sung by the Choir and congregation.
Choir Director: Janet Reeves
Organist: Tim Lewis
Recording Engineer: Alex Green, assisted by Eoin Molyneux and Harry Rochez
Running time: 53:32 minutes
Contents:
Puer Natus in Bethlehem - Prætorius
Christmas Fantasy - Roy Marks
In Dulci Jubilo - Prætorius
O come, O come Emmanuel
Bidding Prayer & Lord's Prayer
Remember, O thou man - Ravenscroft
Reading: Adam & Eve (Genesis 3)
Alma Redemptoris - Palestrina
Reading: Isaiah 7: 14, 15
Gabriel's Message - Basque Carol
Reading - Annunciation (Luke 2)
Ave Maria - Pinhey
Reading: Great Exemplar - Jeremy Taylor
The Holly and the Ivy - Trad. Hertfordshire
O Little Town of Bethlehem
Reading: The Birth of Jesus (Luke 3)
Bethlehem Down - Warlock
Reading: John 1
O magnum mysterium - Victoria
Jesus has come among us - Forrester
Prayer of Humble Access
O come all ye faithful (Adeste fideles)
Organ: In Dulci Jubilo - J S Bach
AMDG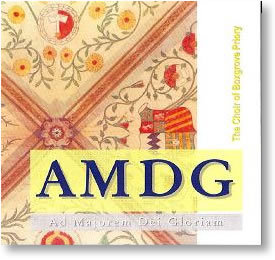 Ad Majorem Dei gloriam
This is the Choir's first CD which was released in 2000. It represents a selection of the music that might be used for each of the sections of the mass.
Choir Director: Clifford Pinhey
Organist: Clifford Pinhey
Cantors: David Bathurst & Emma Tristram
Contents:
Preparation for Worship

O Heavenly King - Pinhey [1'48"]

Plugin incompatible with browser

Introit - Invocabit me - plainsong [2'56"]
Kyrie † [2'26"]

Plugin incompatible with browser

Introit ‡ [5'43"]

Prayers for Penitence

Plainsong - Asperges me, followed by You will purge me - Pinhey [2'39"]
Kyrie § [2'16"]

Plugin incompatible with browser

Gloria in Excelsis Deo!

Gloria † [3'54"]
Gloria § [2'57"]
Gloria - from Responsorial Mass Nº5 Pinhey [3'07"]

Psalms, Gradual and Alleluia!

How can I repay the Lord? - choir psalm - Pinhey [2'00"]

Plugin incompatible with browser

Alleluia - I am the light of the world - Pinhey * [1'09"]

The Offertory

Sicut Cervus - Palestrina [2'59"]
Cherubic Hymn - Pinhey [1'39"]

Sanctus & Benedictus

Sanctus & Benedictus § [2'02"]
Sanctus & Benedictus † [3'46"]
Sanctus & Benedictus from Organ Mass Nº1 - Pinhey * [2'20"]

Agnus Dei

Agnus Dei § [1'43"]
Agnus Dei I † [1'47"]
Agnus Dei II † [2'12"]

Communion

Motet - O Sacrum Convivium - Croce [2'06"]
Motet - Sancte Deus - Tallis [6'00"]

Requiem

Libera Me - responsary ‡ [4'20"]
Troparia - Prayers for the dead - Pinhey [3'02"]
In manus tuas - Byrd [2'53"]

To the Blessed Virgin Mary

Ave Maria - Verdelot [2'29"]
O full of grace - Pinhey [1'53"]
Salve Regina [1'44"]

Plugin incompatible with browser
Legend:
† from polyphonic mass Simile est regnum coelorum Victoria
‡ from 6-part Missa pro defunctis (Requiem) - Victoria
§ from the plainsong Mass Rex Splendens
* with organ